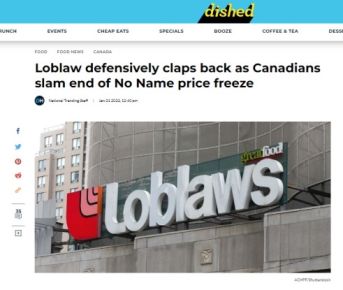 Thexton PR Principal Rachel Thexton drafted a column for top Canadian digital news outlet Daily Hive about the online consumer backlash due to the end of the Loblaws No Name product price freeze, and the way in which the company responded to, and engaged with, Canadians on social media after making the announcement.
Rachel stressed the defensive tone and lack of empathy that irritated Canadians as well as potential solutions that could have prevented the online PR disaster that followed.
In addition to the column running nationally on Daily Hive, it was also picked up by Toronto's most visited blog; BlogTO , CanadaToday.news, and resulted in an interview with large Canadian daily newspaper Toronto Star and Chinese news website Iask.ca.